9. Description by document type of items to display
9. Description on items to display by document type
Displays detailed information on selected series, file and item.
Description on items to display by document type
Series, file, item can be browsed.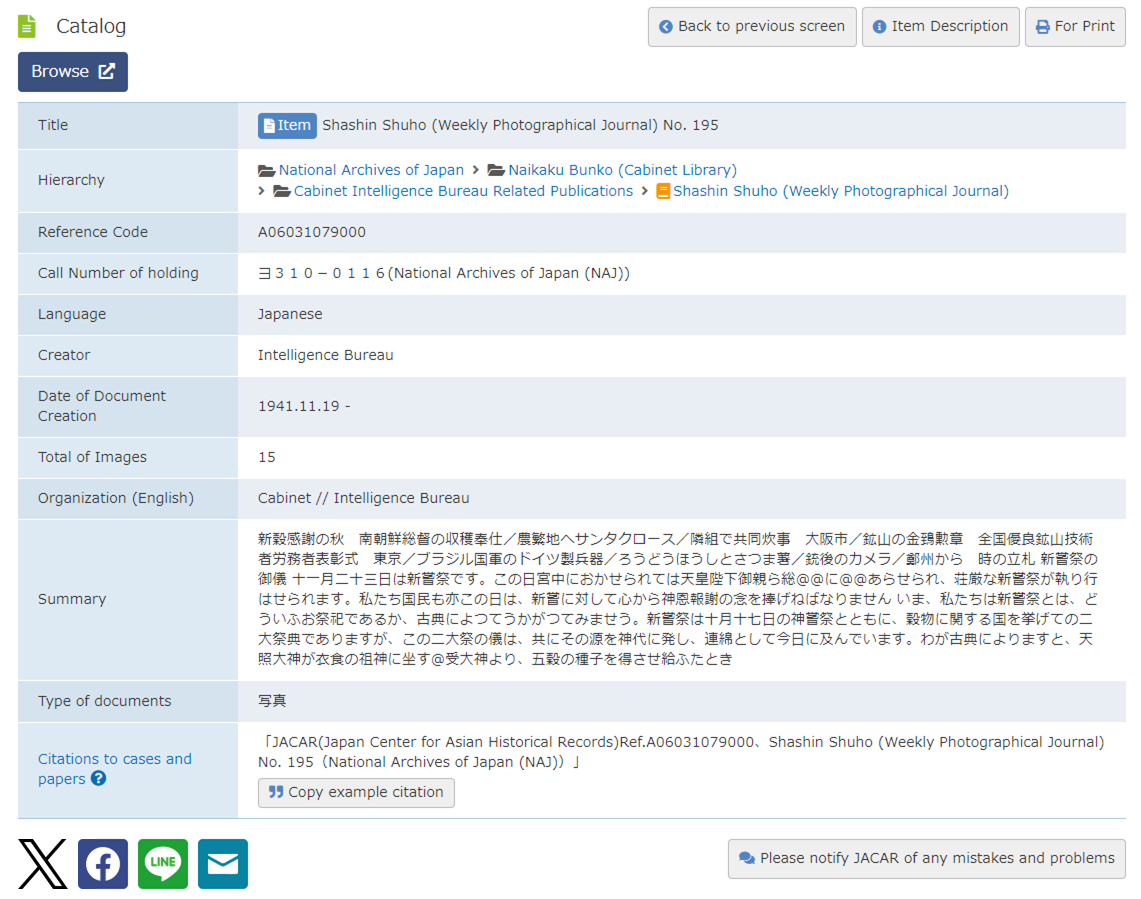 For Print screen

Displays search results in a print-friendly layout. For more detail, please refer to About For Print screen.

Back to previous screen

You can go back to the search result screen.

Browse

When viewing detailed information on a document subject, there is a "Browse Image" button. Clicking this button will open the image browser for available images.

Mistakes and failure to notify the Information Center

When you click this button, an error screen will appear for inputting issues.
※ In the case of Series does not display.
Description on the items displayed is as below.
Series
Display item for series
| | |
| --- | --- |
| Title | Shows the name of the series. |
| Hierarchy | Shows layer information of corresponding series. |
| Description | A detailed description of the series. |
Files
Display item for files
| | |
| --- | --- |
| Title | Shows a name of the file. |
| Hierarchy | Shows layer information of corresponding series. |
| Reference Code | Shows a unique identification number, a reference code, for the document. |
| Call Number of holding | Shows Call Number of holding. |
| Language | Shows language in which this document was written. |
| Creator | Shows name of persons who wrote document. |
| Date of Document Creation | Shows date of creation for a document. |
| Total of Images | Shows number of images included in a document. |
| Organization | Shows the name of the organization that created a document. |
| Summary | A detailed file summary. |
| Type of documents | Shows Type of documents for a document. |
| Caption such as photos and figure | Shows Caption such as photos and figure for a document. |
| Of record of such attachments title, author, create institutions | Shows Of record of such attachments title, author, create institutions for a document. |
| Classification Levels | Shows Classification Levels. |
| Citations to cases and papers | Shows Citations to cases and papers. |
Items
Display item for items
| | |
| --- | --- |
| Title | Shows the name of items. |
| Hierarchy | Shows layer information of corresponding series, subseries and file. |
| Reference Code | Shows a unique identification number, reference code, for the document. |
| Call Number of holding | Shows Call Number of holding. |
| Language | Shows language in which documents are written. |
| Creator | Shows name of persons who wrote documents. |
| Date of Document Creation | Shows date on which documents were created. |
| Date | Shows date of creation for a document. |
| Total of Image | Shows number of images included in a document. |
| Organization | Shows the name of the organization that created a document. |
| Summary | Shows the first 300 characters of a document extracted in full-text. |
| Type of documents | Shows Type of documents for a document. |
| Caption such as photos and figure | Shows Caption such as photos and figure for a document. |
| Of record of such attachments title, author, create institutions | Shows Of record of such attachments title, author, create institutions for a document. |
| Classification Levels | Shows Classification Levels. |
| Citations to cases and papers | Shows Citations to cases and papers. |